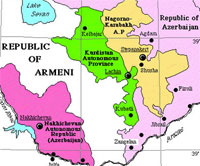 K
urdistana
Sor
.. or Red Kurdistan.
(Try to

google

! Russian:

Kurdistanski

Uezd

/

Azeri

:

Kurdistani

Okrug

)


This historical autonomy from 1923 is almost forgotten today and very few knows what Red Kurdistan was today and was ordered by Lenin himself to be established.
The
Ezidî
Kurds from Armenia and the Kurds living in the
Lachîn
,
Kelbajar
and
Ngorno
-
Karabakh
and other nearby areas in
Azerbadijan
knows and remembers.
Red Kurdistan was officially set up on July 7, 1923 by the decision of a Special Committee.
Kurds lived in Red Kurdistan made up of four administrative units-
Kelbajar
,
Lachin
,
Gubadly
,
Zengilan
.
Kurdistanski
Uezd
was dissolved on April 8, 1929 after the Sixth Azerbaijani Congress of Soviets authorized the structural reshuffling of the administrative units.
T
he Kurds in the former Soviet Union lived in
today's
areas of the Caucasus and
Turkemistan
which
have been traditional Kurdish settlements for centuries but this area is not any geographical area that the Kurds consider as
they're
homeland.
The Kurds according to the Soviet census was numbered as 150 000 but the Kurds in Soviet gave themselves much more higher numbers than that.
M
ay
30, 1930 the Central Executive Committee of
Azerbadijan
came to the decision that they would establish Red Kurdistan once again with
Lachîn
as the autonomy´s capital with other districts that had been ignored the first time.
This time, Red Kurdistan survived 2½ months before the Central Executive Committee of Soviets and Council of People's Commissar liquidated the on July 23, 1930.
Red
Kurdistanis
were briefly able to take Kurdish summer classes in 1931; the same year the newspaper "Soviet Kurdistan" was founded in
Lachîn
.
This areas is controlled by Armenia today.