T

hese

days, 90 years ago..
Armenia's

national hero General

Andranik

together with the

Yezidi

-Kurd

Cenghir

Agha

.
Until now, this picture has never been digitalized and

available

on the web, this picture with both of them is rare and is donated to Kurdistan and

Hayastan

by a man who traveled through the Kurdish communities of Soviet Armenia during the 1980´s.

G
eneral
Andranik
and
Cengir
Agha
struggled together in 1918-1920 particular in the Battle of Bash-
Aparan
which
was a battle against the Turkish army on May 21, 1918 during the Turkish-Armenian War, when the Turkish invasion of the newly independent Democratic Republic of Armenia.
D
uring
the Genocide, the military cooperation and relations between general
Andranik
and the
Yezidi
-Kurd
Cenghir
Agha
were strong and their their battles against the Turks became an symbol of the age-long friendship of the two nations.
The
Yezidi
-Kurds in Armenia were active participants in the battles at Bash-
Aparan
and
Sardarapat
in 1918, that turned a new page in the history of the two nations.
General

Andranik

Ozanian

with his men, the "

Fedayi

"´s, the

mens

nationalities on the picture is unclear.
T
he
Yezidi
-Kurds has participated and
symphatized
in many Armenian defence battles, for an example in the battle of
Artsakh
, the Kurds attended in the battle and thirty of the Kurdish soldiers died in the battles.
The Kurds has also financed and shared battles the
Artsakh
movement where a Kurdish section and a Kurdish women section (!) existed who fought for
Vaiq
,
Goris
,
Ijevan
and
Yeraskhavan
.
Discuss in the comment section in the end of this post!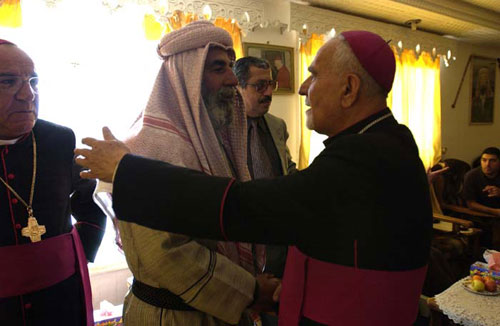 Why is it today that the
Yezidi
- Kurdish community is more popular and beloved
among
the Armenians then the everyday Muslim - Kurd?
Is it a dispute over religion or does it have any geographical
explanation
, because the
Yezidi
- Kurds live closer to the Armenians?